Posts from Bexar Audubon Society
about birding and birders and conservation articles, books, programs, webinars, classes, and other newsworthy items.
Top 10 Ways to Help Birds in Fall
by Bill Thompson, III | Editor, Bird Watcher's Digest
Follow these ten tips to get the most out of fall migration!
Whether you'd like to admit it or not, summer is over and autumn is upon us. Spring cleaning gets lots of attention, but for the backyard bird watcher, there's just as much to do in fall as in spring. To ensure that you get the most out of this fall's migration, this article offers these suggestions for the birds in your backyard.
Studying Female Bird Songs
More and more scientists are turning their attention to female birds, uncovering new behaviors and changing the way we think about female songs and calls. Karan Odom, a Cornell Lab of Ornithology researcher and her team used recordings in the Macaulay Library to discover that female bird songs have been documented in 64 percent of songbird species in the world. You and other birders may be able to help learn more about female bird songs too. Read more here and check out the Female Bird Song Project http://femalebirdsong.org/
---
August 14, 2020
The Pleasures of Moth Watching
It's high moth season, and drawing you out into the dark is one of the many ways moths can enrich your life, if you let them. Besides, most of the birds are asleep when it's dark. Thanks to our Kendall County moth friend, Delmar Cain, for sharing. Read more about the night garden and its inhabitants in this article from The New York Times.
---
August 12, 2020
A Big Win
for Birds
Citing Harper Lee's classic novel "To Kill a Mockingbird," a federal judge on Tuesday overturned the Trump administration's 2017 reinterpretation of the Migratory Bird Treaty Act that had upended decades of enforcement and let industry polluters entirely off the hook for killing birds. Read more …
---
August 10, 2020
River of Dreams
If you subscribe to BirdWatching magazine and live in greater San Antonio, you will be delighted with the excellent article about San Antonio bird habitat in the September-October issue (also on sale at newsstands and online). "River of Dreams" profiles the San Antonio River Authority's restoration of the Mission Reach of the San Antonio River, which "turned a drainage channel into a mosaic of habitat for birds."
San Antonio bird consultant Martin Reid has documented more than 200 species of birds now using the habitat. Find out more about the Mission Reach Avian Study here and on this San Antonio River Authority YouTube program.
The article also gives a nice profile of Mitchell Lake Audubon Center, styling it an Urban Refuge. Bexar Audubon member and Mitchell Lake Audubon Center docent Ray Kinsell provided a guided tour of the property and the birds to the article author.
---
August 9, 2020
Virtual Bird Festivals
Birding festivals and the birders who revel at the opportunity to attend these social birding events have taken a big hit since February, when the Covid pandemic forced festivals with decades of history to be canceled. Now, some popular birding festivals are reacting in the best possible ways by making their festivals virtual events. In coming weeks, you are invited to attend birding festivals from Arizona, Colorado, Washington, Texas, Hawaii, and Alaska – virtually – from home! Read more …
---
August 5, 2020
---
August 4, 2020
National Audubon is
Exploring its Namesake
Today, National Audubon Society published the first two articles in a series that will reckon with parts of its history in order to help build the Audubon of the future. This is something that many communities and organizations are going through right now, as you may know .

In his column, Revealing the Past to Create the Future, Audubon CEO David Yarnold writes:
"It's fair to describe John James Audubon as a genius, a pioneer, a fabulist, and a man whose actions reflected a dominant white view of the pursuit of scientific knowledge. His contributions to ornithology, art, and culture are enormous, but he was a complex and troubling character who did despicable things during his life. And, he's a person that some researchers have argued was part Black himself, which would mean that the most famous American bird artist was a man of color." Read more.
In The Myth of John James Audubon, Dr. Gregory Nobles, a historian and biographer of John James Audubon, writes:
"A now-legendary painter who traveled North America in the early 19th century, in an epic quest to document all of the continent's avian life, he is above all known as a champion of birds. Audubon was also a slaveholder, a point that many people don't know or, if they do, tend to ignore or excuse. 'He was a man of his time,' so the argument goes. That's never been a good argument, even about Audubon's time—and certainly not in this one—because many men and women in the antebellum era took a strong and outspoken stand for the abolition of slavery." Read more.
You may wonder or be asked whether the National Audubon Society is considering a name change because of the negative aspects of John James Audubon's history. Audubon is committed to doing the exploration of John James Audubon's legacy fully and transparently but has not made any decisions beyond that yet.
---
The Great American Outdoors Act Signed Into Law Today
And with the stroke of a pen, it became official: The Land and Water Conservation Fund now has full and dedicated funding. That means that $900 million will be committed each year to protecting important land, water and recreation areas that benefit all Americans.
President Donald Trump today signed the Great American Outdoors Act into law. That moment marked the conclusion of the environmenal community's 50-year effort to secure full funding for LWCF, which uses a small portion of revenues from offshore oil drilling for conservation.
This is a bipartisan victory for a bipartisan cause. Earlier this month, the U.S. House of Representatives voted 310-107 to pass the Great American Outdoors Act. The Senate voted 73-25 in June to do the same. We were gratified to see so many members of Congress from both sides of the aisle come together to support such an important bill. And now that bill is law. Today's signing of the Great American Outdoors Act is a reminder of all that's possible when we work as one. There is much more we can — and must — do to conserve land.
But today, we celebrate.
Read more about the Act and the Land and Water Conservation Fund on the Conservation Page of this website.
---
---
July 23, 2020
Interest in Birding Continues to Surge
Probably a reflection of the ever-increasing interest in birding overall, as well as an indication that more people have had more free time during the current worldwide pandemic, a recent New York Times article chronicled that "Birding has surged in popularity this year." Likewise, more and more people have started reporting the birds they see using eBird, adding valuable information that help us understand birds more all the time.
Read the whole article HERE.
---
July 16, 2020
Winged Wonders
Why Birds Have the Power to Lift Us Up
by Kenn Kaufman
This essay from the August issue of BirdWatching Magazine presents universal truths about birds and their ability to remind us of the enduring cycles of nature.
Read it in its entirety HERE.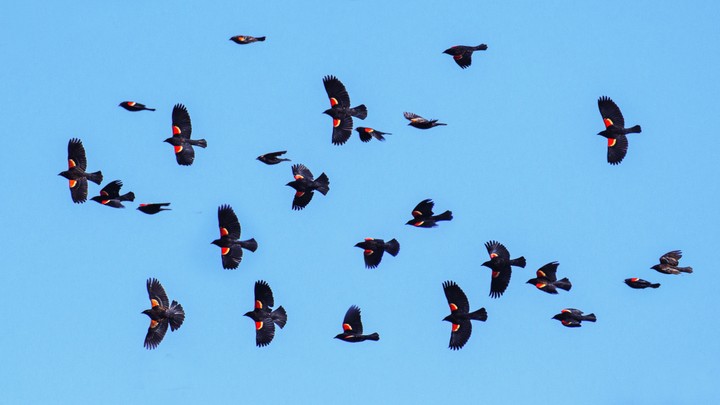 Journey Complete,
Scott Edwards Looks Back On His Cross-Country Bicycling Trip
On August 20, with low tide lapping his toes, Scott Edwards stood on an Oregon beach and hoisted his bike overhead in triumph. The 57-year-old Harvard professor and curator of ornithology had just finished a solo, cross-country bike ride spanning 76 days, 15 states, 3,800 miles—and just three flat tires. Read more here.
Meet the Harvard Ornithology Professor Biking Across the Country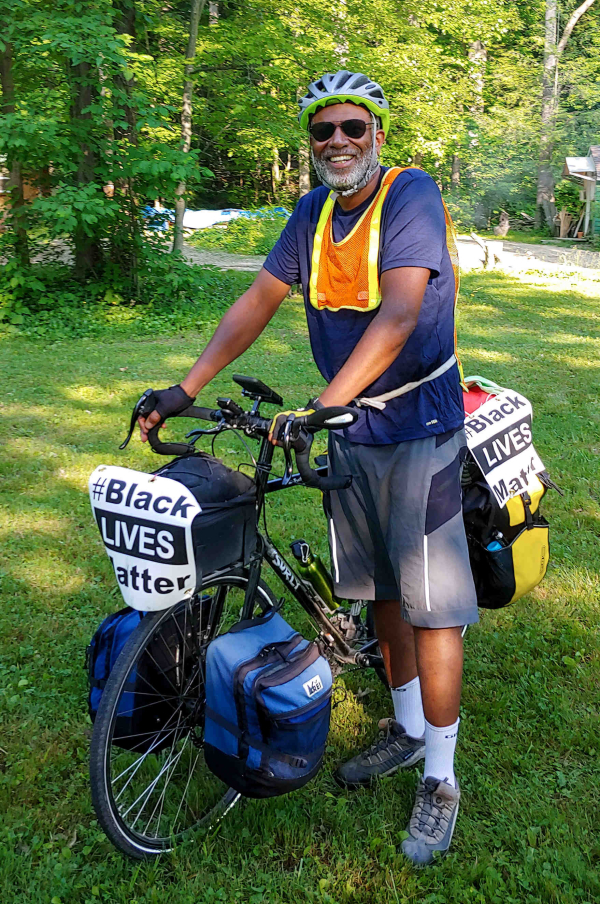 As a professor and curator of ornithology at Harvard University, Scott Edwards usually spends his summers immersed in conferences, museum collections, fieldwork, and laboratories. He stays busy investigating a wide array of species and subjects, including House Finch parasites, the evolution of flightless ratites, such as the Ostrich and Emu, and the role odor and genetics play in mate choice for Leach's Storm Petrels.
But this year, when COVID-19 halted most scientific endeavors and closed campuses across the United States, Edwards decided to attempt his dream of cycling from the Atlantic to Pacific. Mapping an approximate route, south of the Great Lakes then due west, he planned to cruise along country roads and sleep at campgrounds, expecting both to be empty enough for social distancing. Audubon magazine interviewed Edwards 10 days into his trip. Read more …
---
July 1, 2020
Central Park Birder Christian Cooper
On Birding and Inclusion
Writer and editor Christian Cooper discusses his passion and tips for bird-watching, his experience #BirdingWhileBlack, and his advocacy work toward making birding more inclusive for people of color and the LGBTQ+ community. Chris currently serves on the Board of Directors for NYC Audubon and, on May 25, 2020, he experienced a racist confrontation while bird-watching in Central Park that inspired the creation of #BlackBirdersWeek.
Watch Christian's interview here.
---
June 23, 2020
DIY: Save Birds from Window Strikes
Bexar Audubon doesn't often endorse a product on this website. However, this time we are making an exception because this product appears to save birds' lives in an affordable way.
Acopian BirdSavers, offers Zen Wind Curtains, a simple, elegant, aesthetically pleasing, and very effective way to prevent birds from flying into windows–an event that kills from 100 million to 1 billion birds in the U.S. every year. And they offer full FREE instructions so homeowners can be Do It Yourself Bird Savers!
Please watch this 98-second video on YouTube called "How to Stop the Thuds", which will introduce you to Acopian BirdSavers. The more of these that are made and installed, the fewer birds will meet an untimely demise at our windows!
---
June 4, 2020
"Black Birders Week"
Promotes Diversity and Takes on Racism in the Outdoors
Audubon chapters want the outdoors and the joy of birds to be open to everyone. However, the legacy of racism and injustice in this country still exclude and endanger Black people in ways large and small every day. That means we need to listen carefully to our Black colleagues' experiences and work hard to build a more just and inclusive world in everything we do.
Click here to learn more.
Listen to Drew Lanham's Keynote Speech at the 2017 Audubon Convention in Utah
An author, ornithologist, and professor of ecology and conservation at Clemson University, Lanham spoke on the importance of inclusiveness and diversity in birding, among other themes.
---
Spotlight on Birds Facing Extinction
A newly released study paints a dire picture about the global extinction of wildlife. It says the extinction rate is likely much higher than previously thought and is eroding nature's ability to provide vital services to people. The researchers found that 515 species of land vertebrates have populations of 1,000 or fewer individuals. Birds account for 65 percent of the total — 335 species. This article in BirdWatching magazine spotlights a handful of them.
---
June 3, 2020
Beach Birds Need Space This Summer
As beaches, islands, and sandbars attract people to our beautiful waterfronts, beach visitors and boaters can help make beaches safer for nesting birds by avoiding areas close to their nesting sites. In some locations, signs and fencing is installed that informs people about the presence of sensitive nesting birds and to give beach nesting birds their space. Shorebirds, skimmers, terns, plovers, oystercatchers, and other species are nesting now and need our help to improve their nesting success.
A Least Tern tends its chicks on their beach nest.
---
May 28, 2020
Is It Okay to Remove Cowbird Eggs
From Host Nests?
It can be tempting to interfere with these brood parasites. But there are many reasons—legal and behavioral—to leave tampering to the pros. Read more HERE.
Wednesday, May 27
---
National Audubon Response to
Central Park Incident
In response to an incident in Central Park's Ramble that went viral on Twitter, the National Audubon Society issued the following statement:
"Black Americans often face terrible daily dangers in outdoor spaces, where they are subjected to unwarranted suspicion, confrontation, and violence," said Audubon Senior VP for State Programs Rebeccah Sanders, who is white. "The outdoors – and the joy of birds – should be safe and welcoming for all people. That's the reality Audubon and our partners are working hard to achieve. We unequivocally condemn racist sentiments, behavior, and systems that undermine the humanity, rights, and freedom of Black people. We are grateful Christian Cooper is safe. He takes great delight in sharing New York City's birds with others and serves as a board member of the New York City Audubon Society, where he promotes conservation of New York City's outdoor spaces and inclusion of all people."
---
May 20, 2020
What to do if you find a
Baby Bird on the Ground
During the spring and summer, wildlife refuges, parks, zoos, and veterinary clinics across the country are presented with a problem. People working in their yards, walking on trails, or visiting other outdoor sites find a baby bird that cannot yet fly. It seems apparent that there are no adult birds tending to the youngster, so people immediately assume that the bird needs help. So they scoop up the bird, put it in a cardboard box, and bring it to the nearest facility they can think of to save the youngster. Sadly, this act of kindness probably does more harm than good. Bexar Audubon Society and the U.S. Fish and Wildlife Service want to help you be prepared and know how to handle this situation for the best possible results.
Click HERE for more information. Click HERE for a handy reference flowchart to help your know what to do.
Click HERE to contact the Wildlife Rescue and Rehabilitation Emergency Hot Line in the San Antonio Area.
---
NEW BIRD BOOKS!
Both casual and serious birdwatchers can take their skills to the next level with this detailed consideration of bird behavior. This book makes it possible to move beyond identifying birds to understanding some of the underpinning and meaning to what birds do, how they do it, and why they do it. Written in an easy-to-understand style, with an abundance of photos illustrating the behaviors, the book shows how flight, molt, migration, feeding, predation, social behavior, courtship, and nesting shape birds' behaviors. Birds are everywhere, and easy to observe; this introduction to elements of bird behavior will connect readers more intimately with these remarkable and beguilingly perceptive animals.
The Real James Bond:
A True Story of Identity Theft, Avian Intrigue, and Ian Fleming
The whole world knows that James Bond is 007, the fictional British spy. In real life, however, James Bond (1900-1989) was an ornithologist and an expert on the birds of the Caribbean. He wrote Birds of the West Indies, the definitive book on the subject. First published in 1936, it has been reprinted several times.
In the new biography, The Real James Bond: A True Story of Identity Theft, Avian Intrigue, and Ian Fleming, author Jim Wright tells the real Bond's story, from his privileged yet tragic childhood to his early interest in birds to his travels throughout the West Indies. Readers also meet Ian Fleming, the novelist who appropriated Bond's name for his iconic character, who many of us know wanted his Martinis "shaken, not stirred."
Bird Love: The Family Life of Birds by Wenfei Tong
Bird Love looks at the extraordinary range of mating systems in the avian world, exploring all the stages from courtship and nest-building to protecting eggs and raising chicks. It delves into the reasons why some species, such as the Wattled Jacana, rely on males to do all the childcare, while others, such as cuckoos and honeyguides, dump their eggs in the nests of others to raise. For some birds, reciprocal promiscuity pays off: both male and female Dunnocks will rear the most chicks by mating with as many partners as possible. For others, long-term monogamy is the only way to ensure their offspring survive.
Wenfei Tong is an expert on the evolutionary biology and behavioral ecology of birds, but she is also a born naturalist, a talented writer, and a gifted photographer. Her love and enthusiasm for the subject is clear and infectious, and she has found a way to communicate a wealth of scholarship about the reproductive behavior of these charismatic animals to a broad audience.
---
Birdsong For the Curious Naturalist: Your Guide to Listening
by Donald Kroodsma
From a leading expert, Birdsong for the Curious Naturalist is a basic, how-to guide that teaches anyone—from beginner to advanced birder—how to listen. In understandable and appealing language, Kroodsma explains why and how birds sing, what various calls mean, and what to listen for from the birds around us. The descriptions are accompanied by color photos of the birds, as well as QR codes that link to an online collection of more than 700 recordings. With these resources, readers are prepared to recognize bird sounds and the birds that make them.
Kroodsma encourages readers to find the joy of birdsong and curiosity—to observe, listen intently, be curious, ask questions, and realize that many unanswered questions about birdsong don't have to rely on scientists for answers but can be answered by any curious naturalist.
---
What it's Like to be a Bird by David Allen Sibley
BirdWatching magazine recently interviewed field guide author and illustrator David Allen Sibley about his new large-format publication called "What It's Like to be a Bird," featuring more than 200 species and 330 illustrations, appealing to birders and non-birders alike. Read the interview here. Author Sibley says of his new work, "I always learn a lot about a subject when I work on a book, which makes me confident that I'm producing a book that other people will also learn from. My favorite part is when I can pull together bits of information from many different sources and present them in a unified way, connecting them across categories and making complex ideas understandable." Sibley recently wrote a newspaper article based on this book that you can read here.
---
The Bird Way by Jennifer Ackerman
Jennifer Ackerman, author of the New York Times bestseller "The Genius of Birds," has a new book, "The Bird Way: A New Look at How Birds Talk, Work, Play, Parent, and Think." The book investigates the bird way of being and the recent scientific research that is dramatically shifting our understanding of birds, including how they live and how they think.
The CBS Morning show highlighted Jennifer Ackerman's book on May 16 in a piece that also discussed how birdwatching is helping people in lock down rediscover nature from their own yards. The report was well done and worth a view HERE.
---
How Birds Work by Marianne Taylor
Learn the answers to all kinds of questions about bird behavior and characteristics in Marianne Taylor's new book, "How Birds Work: An Illustrated Guide to the Wonders of Form and Function―from Bones to Beak." From the publisher: "How Birds Work goes beyond the typical field guide to show us not only what birds look like but why. Why do many owls have asymmetrical ear openings? (Hint: It helps them pinpoint prey; see page 40.) And why does the Grey Heron rest on one leg at a time? (Hint: Not because it's tired; see page 66!) Birds boast a spectacular array of adaptations suited to their incredibly diverse diets and habitats. In this in-depth handbook, discover the ways they're even more astounding than you know—inside and out.
---
May 15, 2020
International Crane Foundation
"From the Field" Webinar Series
Join International Crane Foundation (ICF) staff for their weekly live webinar series "From the Field" on Thursdays beginning at 11 a.m. Central Time. You can see the list of upcoming and past webinars in this series HERE. The webinar recordings are available online on the ICF YouTube Channel after the event.
We especially recommend that you watch the recent presentation by ICF Rich Beilfuss, President and CEO:

Cranes, Climate Change, and COVID-19: Lessons for Saving a Beloved Family of Birds, Ourselves, and Our World

Understanding the serious threat of global warming to cranes and the wild places they depend on helps us better understand how our changing climate will affect people and wildlife on a global scale. The COVID-19 pandemic is teaching us that if we wait to see the full impact of a crisis before taking action, it is much more difficult and costly to stop it.
---
May 13, 2020
Nature's Best Hope
In this YouTube video, Dr. Doug Tallamy discusses simple steps that each of us can-and must-take to reverse declining biodiversity and will explain why we, ourselves, are nature's best hope.
Click HERE to listen to this informative, inspirational talk.
Click HERE to order the book by the same name, which outlines Dr. Tallamy's vision for a grassroots approach to conservation.
---
April 29, 2020
American Bird Conservancy
Webinar Series Now on YouTube
American Bird Conservancy (ABC) has made all of its recent webinars available on its YouTube Channel for all of us to access.
Click HERE to view the current series of six webinars on a variety of topics related to bird conservation, from preventing window strikes to enjoying birds from your window.