Posts from Bexar Audubon Society about
birding and conservation articles, programs, webinars, classes,
and other newsworthy items for BAS members.
March 8, 2023
Spring Variety at
Your Feeding Stations
Spring migration can bring some of the most interesting, most exciting, most surprising, most appreciated birds to our yards. They arrive as single birds, as flocks, and in mixed flocks, but with the advancing change in weather and with increasing numbers of species beginning migration, it's time to prepare for the variety of migrating birds. Our best bet to attract a greater variety of birds to our feeding stations is to provide variety at our feeding stations, adding to or even changing the kinds our winter foods we provide as the spring season progresses.
Read more HERE.
January 25, 2023
Varied Shorebird Feeding Strategies
We often encounter shorebirds one species at a time, but during winter many species mix together at prime feeding locations. These concentrations of sandpipers, plovers, and larger shorebirds like curlews and godwits offer birders an opportunity to view and photograph these interesting birds. We can also enjoy observing a variety of shorebirds and learning more about their varied foods and feeding strategies, along with physical adaptations, especially their bill length and shape.
Take the time to enjoy an impressive video of these birds in action while getting insights for identifying them in the field. It's all available on a Free video from the Bird Academy at the Cornell Lab of Ornithology, which you can view at Shorebird Foraging Strategies | Bird Academy • The Cornell Lab (allaboutbirds.org)
This article was taken from The Birding Wire, January 25, 2023
January 20, 2023
10 Fun Facts About the
Northern Mockingbird
There's more to this flying copycat THAN MEETS THE EYE
. . . OR EAR.
The Northern Mockingbird is one of North America's most beloved mimics. The skilled singer has also become inextricable from American popular culture, providing inspiration for the fictional "Mockingjay" of the Hunger Games franchise to being a central theme in the iconic novel To Kill a Mockingbird. John James Audubon was a fan of the mocker as well. Here are some facts you might not have known about this American classic, which also happens to be the State Bird of Texas.
This article was taken from the National Audubon News.
January 14, 2023
Hummingbirds Hover Because
They Lost a Gene
Hummingbirds are the only bird species that can fly not only forwards, but also backwards or sideways. Their characteristic hovering flight makes that possible.
However, hovering is extremely energy demanding. In a genomic study published in the journal Science, an international team of scientists led by Prof. Michael Hiller at the LOEWE Centre for Translational Biodiversity Genomics (LOEWE-TBG) in Frankfurt, Germany, has investigated the evolutionary adaptations of the metabolism that may have enabled hummingbirds' unique flying abilities. Read the whole article HERE.
January 9, 2023
HAPPY NEW YEAR!
January is Nesting Season for
Great Horned and Barred Owls
January is the time for owls to find the perfect spot for the nesting season ahead. Learn all about owls and their nesting habits and watch a livestream of Barred Owls raising their chicks. Read more HERE.
December 14, 2022
The Surprising Health Benefits of Birdwatching
Why birdwatch?
It's no secret that spending time in nature is good for your mind. Studies show that even a stroll through a city park decreases stress, sharpens concentration and improves long-term mental health outcomes.
But birdwatching also has healing effects on the body. Read more, make a promise to yourself to be healthier in 2023, and GET OUT THERE with the birds!
---
September 18, 2022
Meet Audubon's
Bird Migration Explorer!
National Audubon Society has just unveiled an interactive, free digital platform that combines bird distribution and migration maps with conservation data for 458 species of migratory birds. It's called the Bird Migration Explorer, and it displays its information from hemispheric to local levels.
READ MORE and EXPERIENCE this cutting edge tool HERE.
---
August 17, 2022
New Youth Birding Publication
The second issue of The Fledgling, a most impressive youth-driven online publication created in coordination with the American Birding Association (ABA), is now available as a Free download. The Fledgling is produced by and designed for young birders. Article topics vary from exciting birding travel stories to bird identification tips, ways to get involved in your community, and everything in between. In addition to fascinating articles, The Fledgling's photos and artwork from young birders are most impressive.
This online magazine is both enlightening and fun, and it showcases the amazing talent of the next generation of birders and biologists. To learn more about the young birders who produced this second issue, and to review the first issue in case you missed it, check into The Fledgling – American Birding Association (aba.org)
To download a Free printable PDF file of the new Second Issue of The Fledgling, see ThemeNcode PDF Viewer [Do not Delete] – American Birding Association (aba.org)
---
Live Migration Maps
on BirdCast
As some birds are already starting their migrations, or even in the midst of their seasonal migration to a stopover area, BirdCast provides real-time maps that show the varying intensities of actual nocturnal bird migration across the Lower 48 States as detected by the US weather radar network between sunset and sunrise. BirdCast also provides regional migration predictions. In addition, an especially helpful new tool provides details about migration in your county, a very localized migration monitoring tool – Migration Dashboard.
Check in regularly to the Migration Dashboard to review local bird migration activities above your local county at Migration Dashboard – BirdCast
Read more HERE.
August 16, 2022
New Free Bluebird Book for Young Birders
Designed to make learning about bluebirds a fun and appealing adventure, especially for young people interested in birds, this new publication was produced by the North American Bluebird Society (NABS) to interest more young people in the 3 species of bluebirds found only in North America. The Free downloadable book, Get to Know Bluebirds: A Guide for Young Nature Lovers, is aimed at a youth audience, but provides a great introduction to anyone interested in learning more about bluebirds and how we can benefit these popular cavity nesting birds.
To get all the details and to download your own Free copy, refer to
Publications – North American Bluebird Society (nabluebirdsociety.org
July 14, 2022
How to Successfully Smash Your Face Against a Tree
A new study refutes the widespread idea that woodpeckers have shock-absorbing heads. Read the article in The Atlantic by Ed Yong.
---
July 13, 2022
This year, almost 2,500 photographers from across the United States and Canada submitted nearly 10,000 photographs and videos to Audubon's 13th annual Audubon Photography Awards. With so many exceptional shots and breathtaking birds worth sharing, we cannot wait to present the top 100 photos that nearly won over our judges.

Scroll through these standout images that feature rare and unusual moments in the avian world, and find out the story behind each shot.
---
June 16, 2022
How Noise and Light Pollution Affect Animals
An article from The Atlantic details studies scientists are doing with bats in Wyoming. Read it here.
---
February 24, 2022
How Well Do We Really Know Cardinals?
A familiar favorite may be more mysterious than you think. New research suggests that the Northern Cardinal warrants a closer look—and perhaps a split into multiple species.

"Everybody thinks, 'It's a cardinal, I know what a cardinal looks like,' " says the study's lead author. "But when you really start digging in you realize, 'Oh, maybe they're not what I thought they were.' "

Learn more about the case in support of a split—and get ready to rethink this iconic backyard bird.
From National Audubon: Examine the Evidence and Think About It.
January 18, 2022
November 7, 2021
Virgin Birth in Condors?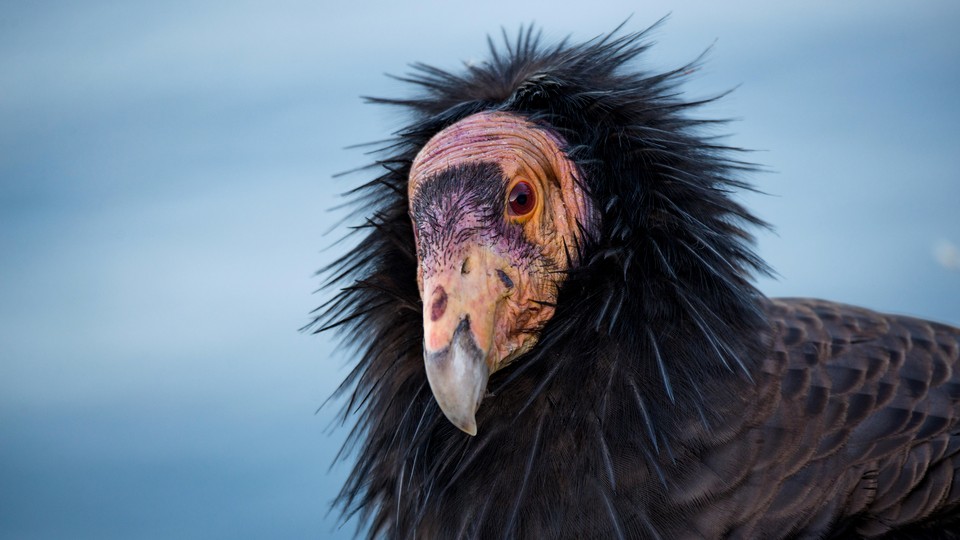 It was a real surprise a few years ago when scientists conducting routine DNA testing among captive California Condors came up with some unexpected paternity. Two birds – known by their tracking numbers as SB260 and SB517 – were not related to their presumed fathers! Apparently, they had no known fathers at all. Fully 100% of their DNA had come from their respective mothers.
This is known as parthenogenesis, a phenomenon that has been studied in invertebrates, as well as in various species of snakes (e.g., boas and pythons), lizards, sharks, rays, and some bony fish. Yes, sometimes it even occurs in birds, such as turkeys and chickens, a subject mainly studied by the poultry industry.
The condor study, led by the much-respected research group at the famous San Diego Zoo was published in late October in the Journal of Heredity.
A good summary, presented by Sarah Zhang, staff writer at The Atlantic, can be found here.
---
October 27, 2021
Project FeederWatch Starts November 13
Are you ready? It's time to Join or Renew now for the 2021-22 Project FeederWatch season, which runs from November 13 through April 30. If you are a first-time FeederWatch participant you will receive the ever-helpful double-sided bird identification poster, and FeederWatch calendars will be mailed to all participants who wish to receive them. It's time to start getting ready for the coming Project FeederWatch season by reading the online instructions, then begin counting your birds when the season starts.
For more details, click Here.
October 25, 2021
Saudi Arabia's First October Big Day of Birding
In celebration of Global Bird Weekend and World Migratory Bird Day, on Saturday, October 9th, birdwatchers in Saudi Arabia took part in this year's October Big Day. During the event, the global birding community tried to record the highest number of bird species possible in a single day. By the end of the day that Saturday, the Saudi Birding Team had recorded a total of 221 species, putting the Kingdom in 44th place out of the 193 countries in which birdwatchers submitted checklists to eBird, an online database of global bird observations developed by the Cornell Lab of Ornithology. Greg Askew, an Aramco employee in Saudi Arabia who gave a presentation to Bexar Audubon this summer, helped organize the event. Read the story here.
---
October 7, 2021
Keep Cats Safe at Home
PET SAFETY BEGINS AT HOME. October is National Animal Protection and Safety Month — the ideal time to review simple ways to keep your beloved pets safe, healthy, and happy at home. Just a few safety measures and modifications to your home, garage, and yard can head off pet accidents, avoiding unnecessary (and costly) trips to the veterinarian or hours of panic searching for a lost pet. Check out these valuable tips and the benefits of catios, including Cassie's catio story. Various catio resources are available, including DIY catio plans by Catio Spaces. Use promo code BASLovesBirdCityTXSA and 10% will come back to us as a donation.
---
October 6, 2021
A Stunning Collection of Bird Portraits Explores the Nature of Beauty
Photographer Tim Flach's new book invites us to marvel at the sheer diversity of avian species.
With their sensuous textures, striking color patterns, and whimsical highlights, birds' beauty certainly delights us, but its real audience is birds themselves. Avian ornaments have evolved through their capacity to intrigue, entrance, inform, and attract mates. In this way, birds are agents in their own evolution.
Read and see more by evolutionary biologist Richard Prum HERE.
---
October 6, 2021
Fall Feeding Stations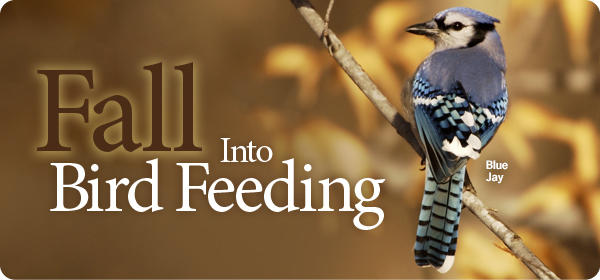 As fall colors progress southward with the cooling temperatures of October, birds that will become winter feeder visitors are working their way south too. Re-imagine your feeding station with many goldfinches, siskins, nuthatches, woodpeckers, grosbeaks, and native sparrows on hand. Plus local birds like cardinals, chickadees, and jays are scouting where reliable food sources exist as they transition from summer insects and berries to fall seeds and suet. It's time to transition to offer "fall and winter foods" – if you haven't already made that move. Read more from The Birding Wire HERE.
Don't forget to check out your local Wild Birds Unlimited store for all the feeders and food items that you and your backyard birds could want. And be sure you have native plants at your home that offer fruit and berries for our winter residents and visitors. For help with selecting appropriate plants for our area, check out the Native Plant Society Chapter nearest you and the National Audubon Society Plants for Birds website.
---
October 4, 2021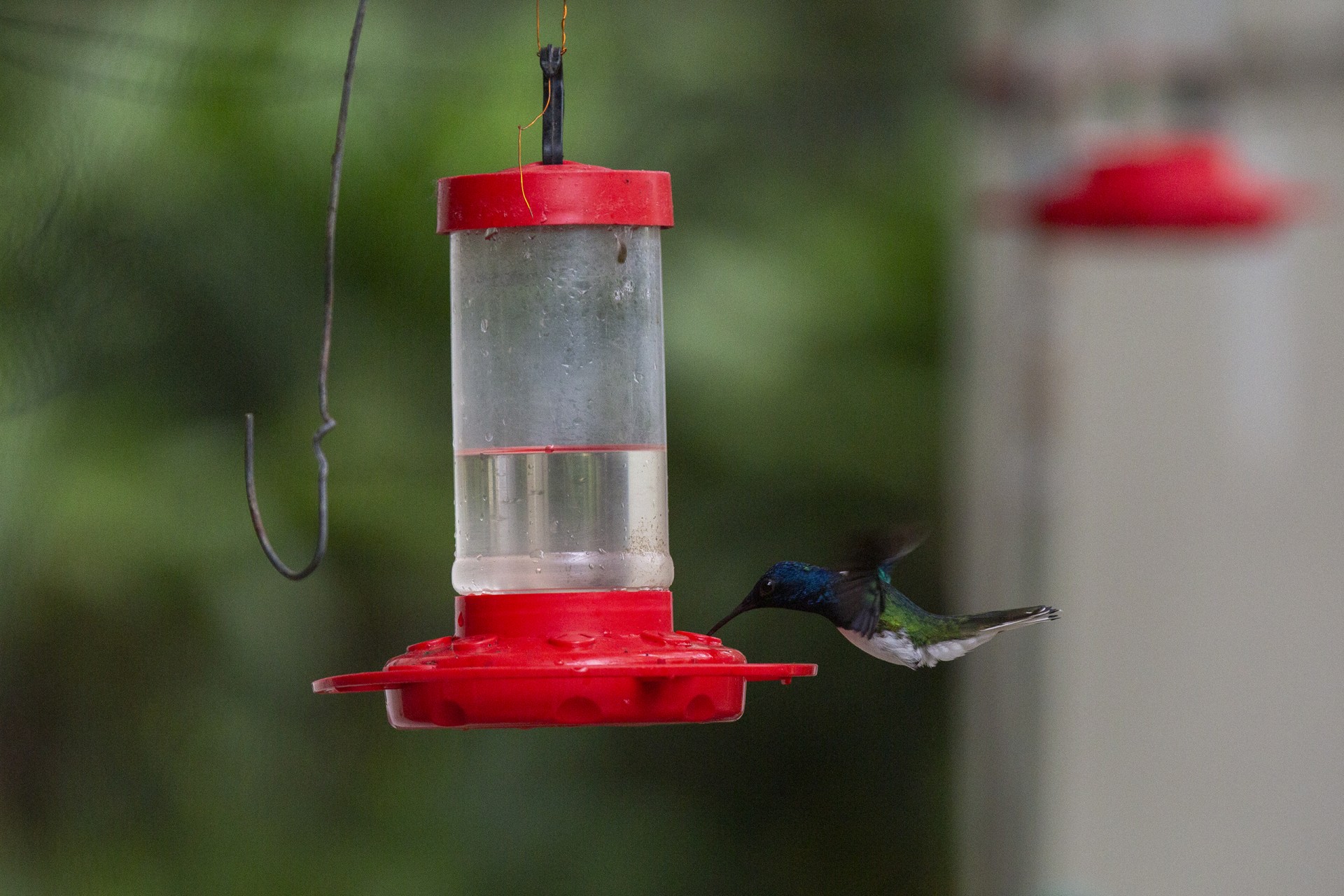 Deceiving Plumage
Female Hummingbirds That Look Like Males
To Avoid Harassment
One of the most distinctive features of many birds is their colorful plumage, an attribute that scientists have frequently associated with sexual selection because it is often observed in reproductive adults: the flashier their feathers, the more likely the birds are to find a potential mate. However, after looking at over 400 hummingbirds in Panama, Jay Falk, a former pre-doctoral fellow at the Smithsonian Tropical Research Institute (STRI) and the Cornell Lab of Ornithology, suggested another possible explanation.
"In the case of hummingbirds, specifically the white-necked Jacobin that I study, males are colorful and most females are comparatively dull," Falk said. "But if you look closely, it turns out that about one-third of female Jacobins look like males." Oddly enough, all juvenile females exhibit this flashy plumage. Yet, as they become sexually mature, most of them lose it. So, if mating is not a priority for these young females, why would all of them exhibit the colorful feathers? Read the entire article HERE.
---
October 1, 2021
Why Most Birds Look Their Best in Fall Plumage
If I asked you to name the season when birds are looking their best, I suspect you would answer "spring." That's when most species are in their most showy and colorful breeding plumage. But I would like to make a case for fall as the season when birds are actually at their most beautiful.
Spring birds certainly capture the headlines with their bright colors and contrasting patterns. Birds like buntings, warblers, and tanagers have just returned to their nesting territories and use their brilliant color to show off for mates and rivals. The beauty of fall birds is more subtle – delicate shadings of gray and buff, crisp pale edges, all feathers new and unblemished. Read the rest of the article here.